♪ Bells and Whistles ♫ -71% off
A downloadable tool for Windows
Bells is a tiny and very light application that makes user experience of Windows 7 and Windows 10 nicer! Apart of being super tiny, It can be configured to start automatically when you login and just run without distracting you in the background - with unnoticeable footprint.

♪ Bells adds a number of nifty features, such as:

Ability to set Hot corners in Windows to trigger Actions:


The task view (mimicking the expose effect on Macs)
Turn Off Screen (Very useful for laptop screens)
Show/ Hide Desktop

Ability to Bring up a Secret Custom Window Menu (Ctrl + \)

Option to set any window to be Always on Top


For FREE. That is right - it's free :)

If you like it, you would like me to keep working on adding more cool things to it, please consider getting the more complete...

"Bells and Whistles ♫" version:
On top of the so far listed features you will also get:

Much cooler Dark Interface


More Assignable Corner Actions:

Toggle Maximized
Minimize All
Bring Up App Menu
Bring Up Task Manager
Lock Screen
Put Laptop To Sleep

More Secret Menu Actions:
Set Specific Opacity on Any Window
Kill Active Window's Process
Find the Executable of Any Window - in a single click
Set Any Window's Application to Start With Windows
Hide Any Window to Tray and Unhide it from there too

Ability to Tell All Unfocused Windows to be Semi-Transparent for a sleek futuristic Desktop effect (Configurable)

Extra Tray Menu Options (Enable/Disable):

Optional Ability to Automatically Confirm Save As Window Dialogs - Potentially saving you a billion of clicks while collecting Pics on the internet - It also copies their names to clipboard whilst doing it- which comes in handy for the next feature
Optional Ability to Automatically Use Clipboard on Open File Dialogs and Confirming them
Optional Ability to Prevent Pop Ups from Stealing Focus (In case adblocker is not enough) - Disabled by Default, because it's a bit unpredictable
Command to Open The StartUp folder in Windows, so you can configure apps you have set to start when you Log In
Unhide specific Windows or All Windows

Advanced Settings To Tweak Some of The Features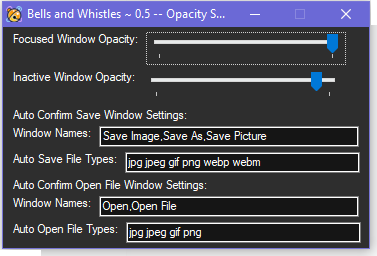 My Eternal Gratitude

How Much Do These Whistles go for you may ask?
80?

...

50??
...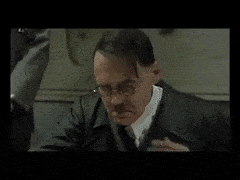 Nein! Es ist... $9.99!
(Yes! That is true - Nein Neinty Nein!)
Its on a discount !

Thank you for your support :D

Download
Click download now to get access to the following files:
bellsAndWhistles-0.5.exe
871 kB
if you pay $9.99 USD or more